Seven acres of fun for the whole family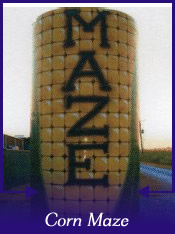 Cajun Country Corn has been farming fiber type food for over 30 years.(corn, wheat, etc) In 2000 they took up providing for the Louisiana corn maze which has continued to evolve since. They integrate a variety of agricultural educational programs in to their maze to help promote knowledge of where all our food comes from.

The Louisiana corn maze is open to the general public. From early October until late November people go out to enjoy seven acres of creatively cut out maze action. During the month of October half of the maze is haunted to provide for some haunted house(maze) style fun. Pricing is currently around $10 adult / $8 kids for general admission with an option for buying season tickets. Major sponsorship from companies such as Coca Cola and Kleinpeter Dairy. Very fun.





Contact and/or Location Info:

Baton Rouge, LA 70767
See Location On A Map


Website Available: Cajun Country Corn Maze
Best of Baton Rouge Category: Family Fun


Originally posted 10/15/2008 by Wayne Odom





View Larger Map
See Detailed Google Map