Great park for family fun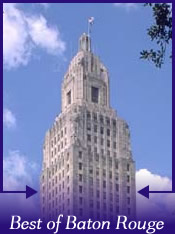 If you're looking for something new to do you might take the short drive down to Gonzales to visit their beautiful YMCA run Jambalaya park. The park and playground are open to the public and the Olympic size swimming pool can be used by contacting the YMCA. A beautiful open theater area and a gazebo are located in the park. They can be rented out for a nominal fee together or separately.

My sister regularly takes her 2 year old to go play in the kids spraygound. There are fun fountains you can play in. The park is very clean and in a very safe area located right next to City Hall.







Contact and/or Location Info:

1013 E. Cornerview
Baton Rouge, LA 70737
(225) 647-9622
See Location On A Map


Website Available: Jambalaya Park In Gonzales
Best of Baton Rouge Category: Family Fun


Originally posted 06/28/2009 by Wayne Odom





View Larger Map
See Detailed Google Map