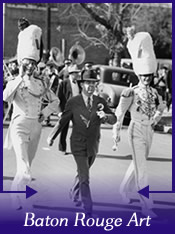 Baton Rouge has a number of opportunity to enjoy arts. We are culture rich and have a history which has produced some fine examples of US Southern art as well as contemporary art work. Here are the galleries, collections and organizations that offer art to our community.



Baton Rouge Gallery - Professional contemporary art exhibits from professional visual artists.


Louisiana Art & Science Museum - Serves the Baton Rouge community through fascinating art programs and exhibits. Also houses the planetarium.


Old Louisiana State Capitol - A great museum of political history in the United States especially to us in the South. Regular art exhibits, shows and events. A great choice for the 400th post on Best of Baton Rouge.