Educational entertainment in downtown Baton Rouge.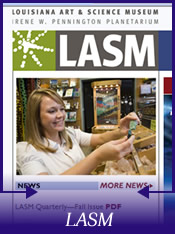 Housed inside the old railroad depot in Downtown Baton Rouge this museum is one of the must visit attractions. It's a very beautiful, very scenic building situated in a perfect location right on River Road. They house a permanent collection of art as well as traveling exhibits. There is also a very cool Egyptian gallery with fascinating artifacts. You'll also be able to visit the Irene W. Pennington Planetarium which is one of the most sophisticated in the entire country. 3D presentations that'll make you throw rocks at your HD TV.

I strolled through the LASM one clear Spring day and had a wonderful time. I love the old railroad building and the exhibit was a rotating piece of black and white pictures of rural areas. I also saw the Egyptian exhibit. A really fun evening out on the banks of the Mississippi.





Contact and/or Location Info:

100 River Road South
Baton Rouge, LA 70801
(225)344-5272
See Location On A Map


Website Available: Louisiana Art & Science Museum
Best of Baton Rouge Category: Art Exhibitions


Originally posted 09/14/2008 by Wayne Odom





View Larger Map
See Detailed Google Map