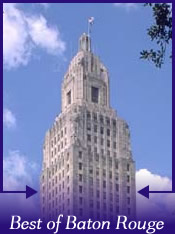 Probably one of the most noticable things downtown is our Old State Capitol. A great museum of political history who's gothic building style captures the imagination as you first see it driving down River Road. It's the closest thing you'll see to a castle in Louisiana and it's full of historical treasure from our history.

Every day of the week you can visit the Old State Capitol as a museum. See all sorts of interesting things such as the building itself, the gun used to kill Huey Long, rotating art exhibits and whatever interesting events the State decides to put on.

One thing I've found interesting is that the capitol is available for events. If you're looking for a unique and very beautiful place for a wedding in Baton Rouge for example this is about as big as it comes. You can check out the event page on their website which shows some of the beautiful pictures of what's available there.





Contact and/or Location Info:

100 North Boulevard
Baton Rouge, LA 70801
(225) 342-0500
See Location On A Map


Website Available: Old Louisiana State Capitol
Best of Baton Rouge Category: Art Exhibitions


Originally posted 06/16/2010 by Wayne Odom





View Larger Map
See Detailed Google Map