Baton Rouge offers organized basketball competition for adults.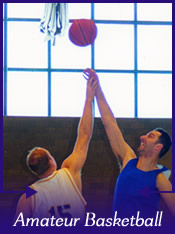 My friends and I play in BREC's amateur basketball association. It's an open league that divides the teams into divisions based on skill which is really nice compared to some leagues that are open to all skill levels.(we're not that good) It's well run and the games are refereed by paid officials. It costs a little money but it's well worth it for the time you get playing organized sports and exercising. Actual cost is around $500 per team to be involved not including uniforms that you'll be required to have. For that cost you get to play around 20 games and will feel like you've gotten your moneys worth.

The coaches meeting will be the first part of September and the rosters are due in October. Games begin playing in November. Go to their website link above for actual dates.





Contact and/or Location Info:

30138 Cane Market Road
Baton Rouge, LA 70785

Website Available: Baton Rouge Amateur Basketball Association
Best of Baton Rouge Category: Live Entertainment


Originally posted 01/31/2007 by Wayne Odom