Fun in the Louisiana sun at Blue Bayou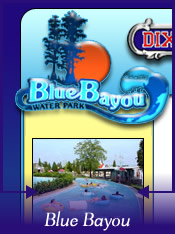 Blue Bayou Water Park and Dixie Landin' amusement park is a giant complex of rides, pools, water slides, live entertainment and about anything else you could think of. An absoultely excellent place to cool off and have fun in the Baton Rouge area.

This great water park has really expanded in recent years. Blue Bayou has some of the largest water slides and rides in the entire world. The Rajin Cajun roller coaster is an absolute blast.

Blue Bayou has many special events on the weekends. They have a big stage where they regularly bring in huge acts in live music concerts. Regularly they have really big acts in country music.

This place is great for people of all ages. Family fun at it's best.





Contact and/or Location Info:

18142 Perkins Rd E
Baton Rouge, LA 70801
(225) 753-3161
See Location On A Map


Website Available: Blue Bayou Water Park
Best of Baton Rouge Category: Live Entertainment


Originally posted 05/15/2008 by Wayne Odom





View Larger Map
See Detailed Google Map