Very entertaining rock, zydeco and variety band.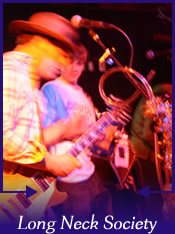 A very new band that only just started in 2006. They really rock and are extremely entertaining. I first saw them play at Spanky's in Prairieville and wow was it a pleasent suprise.

Their playlist is an excellent combination of rock, cajun, zydeco and other fun covers. If you love hearing the accordion like I do then they're the band to see.

A pretty impressive member of their band is a 15 year old guy named Dane Monic who plays the sax, accordion and lead guitar. Sounds great.





Contact and/or Location Info:

Baton Rouge, LA 70816
Best of Baton Rouge Category: Local Bands


Originally posted 06/07/2007 by Wayne Odom