NCAA football at it's best. Tailgating at it's best.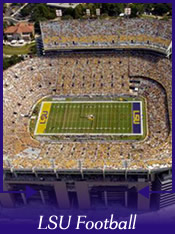 In case you don't know the absolute best event that you can take part in is LSU football and the festivities that lead up to it. In my opinion LSU tailgating is far and beyond the fun you'll have at Mardi Gras or any other event within driving distance.(or better)

Despite what you may have heard about Death Valley the event is great. The people are extremely hospitable(as long as you way purple and gold) You never know what sort of new cuisine or beer drinking contraption you'll walk on. The police and the university do a stellar job running the show and making it safe for the whole family.(I should know I've been to other SEC universities.)

For 7-8 home games each year Baton Rouge enjoys some of the best festivities that you could ever hope for. The Tigers of LSU are the heart and soul of the state of Louisiana and we truly do celebrate it. Whether you're a local or a visitor you're welcome and everyone should take part in this yearly event.

If you're interested in more information concerning game day activities there is a somewhat hard page to find on the official LSU Sports website specifically for Game Day Activities. As their site is dynamic please inform us if this link doesn't work.





Contact and/or Location Info:

Baton Rouge, LA 70803
225) 578-3344

Website Available: LSU Football and Tailgating
Best of Baton Rouge Category: LSU Sports


Originally posted 08/14/2007 by Wayne Odom





See Detailed Google Map