Great football action in March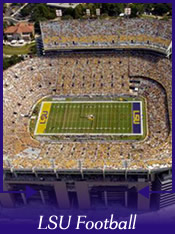 Every year in March the LSU football team has a scrimmage against itself. The team divides and has a good competitive game. It's open to the public and very inexpensive.

2007 was particularly interesting since the game featured two teams instead of offense vs defense. The guys played great and it was a whole lot of fun. Look for the game time and details every year in the newspaper. Great fun. 2007's spring game took place March 23rd.

LSU Tailgating Practice

One great part about this event is that the fans come out and tailgate for the event. It's a perfectly good excuse to enjoy the wonderful Spring weather!





Contact and/or Location Info:

Baton Rouge, LA 70803
Best of Baton Rouge Category: LSU Sports


Originally posted 03/25/2007 by Wayne Odom





See Detailed Google Map