Benefits Towards HIV/AIDS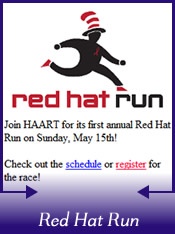 Don your favorite rouge chapeau or funky red fedora and join us for HAART's Annual Red Hat Run,in conjunction with the Art Council's Sunday in the Park! Enjoy music, a Fun and 5K run, after-party with libations and more-all to benefit HAART.

From noon until 5:30pm there'll be guest speakers, a DJ, food, drinks and awards. Check out their link below for the extra details.





Contact and/or Location Info:

Baton Rouge, LA 70801
(225) 927-1269

Website Available: HAART Red Hat Run
Best of Baton Rouge Category: Marathons and Runs


Originally posted 04/21/2011 by Wayne Odom