A party for all those who love running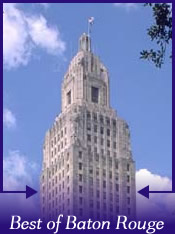 For nearly 10 years now this Mardi Gras themed run has been going on. Occuring in the River Road and Nicholson drive area it makes a fun path through authentic Louisiana areas. There are prizes, shirts and more. Check out their site!

The path of this race is absolutely awesome. It takes you through many of the most beautiful places in town. I've heard people have a great time downtown after the race is over.
Event takes place February 14, 2009 with race day registration beginning at 7:30 am and the 10k beginning at 9:am. Race headquarters is The Bell Of Baton Rouge Atrium





Contact and/or Location Info:

359 Third Street
Baton Rouge, LA 70801
(225)382-3571

Website Available: Amedisys Mardi Gras Mambo 10K Run
Best of Baton Rouge Category: Marathons and Runs


Originally posted 01/04/2008 by Wayne Odom