Offering Culture and Entertainment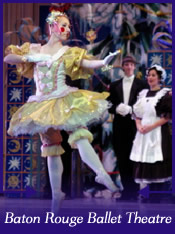 Since 1963 the Baton Rouge Ballet Theatre has maintained a non-profit dance company here in Baton Rouge. They provide to our community several annual dance performances including the very popular The Nutcracker, A Tale from the Bayou during the Christmas season. They're a huge asset to the Baton Rouge community offering growth and culture through the presentation of beautiful ballet.

Baton Rouge Ballet Theatre present their shows inside the Baton Rouge River Center's theatre for the performing arts. The facility has seating for 1200 on the floor and 700 in the balcony.





Contact and/or Location Info:

275 River Rd S
Baton Rouge, LA 70802
(225)766-8379
See Location On A Map


Website Available: Baton Rouge Ballet Theatre
Best of Baton Rouge Category: Performing Arts


Originally posted 08/23/2008 by Wayne Odom





View Larger Map
See Detailed Google Map