Musical Entertainment And Cultural Enrichment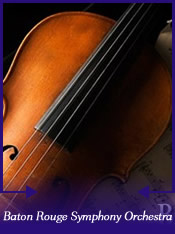 The Baton Rouge Symphony has provided our city with a center of cultural enlightenment since 1940. They are an organized first rate symphony of over 100 musicians most of which are from Louisiana. The symphony performs a wide variety of orchestrational offerings at a rate of 1-3 shows per month at venues near or around Baton Rouge.

They play a big part in our community offering music-related educational programs and services for all people. In fact you can see many of their public offerings in Youtube Videos of the Baton Rouge Symphony. You'll see them performing downtown, for children at local schools, churches and in the great venues downtown.







Contact and/or Location Info:

P.O. Box 14209
Baton Rouge, LA 70898
(225)383-0500

Website Available: Baton Rouge Symphony Orchestra
Best of Baton Rouge Category: Performing Arts


Originally posted 08/24/2008 by Wayne Odom