Diverse collection of art exhibits and cultural programs.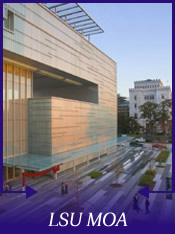 The LSU Museum of Art (LSU MOA) collects, conserves, exhibits, and interprets the fine and decorative arts. Located inside the very new Shaw Center For The Arts this is a very beautiful place and a shining light of culture in Baton Rouge.

The LSU MOA offers a wide variety of programs and viewings to the public. A truly great place.





Contact and/or Location Info:

100 Lafayette St
Baton Rouge, LA 70801
(225)389-7200
See Location On A Map


Website Available: LSU Museum Of Art
Best of Baton Rouge Category: Performing Arts


Originally posted 07/25/2008 by Wayne Odom





View Larger Map
See Detailed Google Map