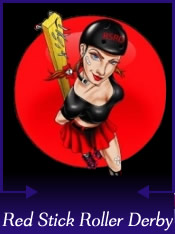 Founded in 2007 RSRD is an all girl roller derby team competing around the United States out of Baton Rouge. They have matches in Baton Rouge at the River Center. Roller derby has something for everyone.(Fast/Furious/Fun) RSRD are part of the Women's Flat Track Derby Association.

What is roller derby though?

In short it's a bunch of fit girls in black eyeliner, hot pants, fishnet stockings, elbow pads and mouth guards. They scramble to push opposing players out of the way while staying within the strict boundaries of the flat-track course and helping their own players move forward. The result is all sorts of falls and bruises, which they display with pride.

The skating attire expresses each woman's personality and in a way it looks like a burlesque show on wheels crossed with professional wrestling. Short skirts, tight T-shirts, punk hair and knee socks are combined with raw aggression and action a plenty.

You really have to see this for yourself. Tickets aren't expensive and more than worth it. You can get tickets for the shows at the River Center through Ticketmaster.com or the River Center box office.





Contact and/or Location Info:

Baton Rouge, LA
See Location On A Map


Website Available: Red Stick Roller Derby
Best of Baton Rouge Category: Live Entertainment


Originally posted 06/10/2009 by Wayne Odom





View Larger Map
See Detailed Google Map