Drag Racing, Mud Drags, Sand Drags and more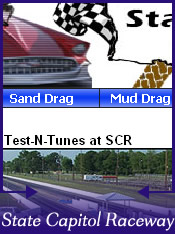 Many in Baton Rouge(and in my family) love to go to the drag strip on Fridays. Building and tuning autos is a big hobby around here so lots of people go to State Capitol Raceway to partake.

There are a good number of competitions but Friday nights are a "Test and Tune" night where people can go out and see what their projects can do. They keep a well updated calendar on their website so if you're interested in racing definitely check this out.

Racers pay $20, spectators pay $10. Gates open at 5pm.





Contact and/or Location Info:

11436 Highway 190 West
Baton Rouge, LA 70767
(225) 627-4574

Website Available: State Capitol Raceway
Best of Baton Rouge Category: Live Entertainment


Originally posted 08/18/2007 by Wayne Odom





See Detailed Google Map