Popular dance and night spot.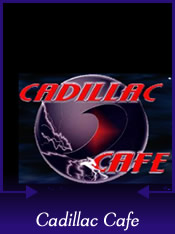 The Cadillac is one of Baton Rouge best live music venues. Crazy Karaoke every Wednesday night and Thursday through Saturday, Live DJ with the best rock & roll, bands the area has to offer. From rock & roll to hip hop.

With two full service bars, great bartenders, friendly staff, a great place to make an evening of it, weather with old friends or looking to make new ones.

Foodwise they have a nice menu of burgers, finger foods and baskets. They're only open for dinner 4pm until on most days and 6pm till on Saturdays. The burgers are pretty decent. We used to stop by after work and enjoy a couple of beers and a quick meal served up by the always beautiful bartenders.





Contact and/or Location Info:

5454 Bluebonnet Boulevard
Baton Rouge, LA 70809
(225)296-0288
See Location On A Map


Website Available: Cadillac Cafe
Best of Baton Rouge Category: Baton Rouge NightLife


Originally posted 02/25/2007 by Wayne Odom





View Larger Map
See Detailed Google Map