Bar and Night Club in Downtown Baton Rouge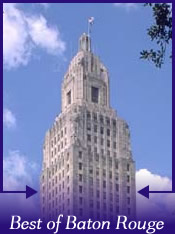 I haven't been to "The Office" yet but it needs to be added to Best of Baton Rouge. Right now it's probably considered the best night spot experience in the city. I'm not suprised they got it right as I've heard their bar in Lafayette is a big hit. If you've never been out in Lafayette you don't know that Lafayette has a great nightlife. Their club experience from what I've seen in the past is pretty awesome.

Anyhow I know several people who have been to The Office and they've all told me it's a really beautiful new place. The bar is really nice and the club itself is very cool. If you want to go dancing it's a great time. The crowd is extremely diverse so it's a great option for anyone.

I like to point out what's good but I think to be fair I have to point out that you need to be ready to wait in line at this place. Apparently there's some sort of system working for VIP entry here so that if you go to The Office on the weekend they're enforcing some sort of line policy that essentially results in the average person waiting in line for 45 minutes to an hour. I've talked to around a dozen people about the place and everyone I've talked to about this place mentions the line and how they wonder why the line is kept because there's plenty of room in the place. I guess time will answer that one. Is their line system a bad thing? I'm not so sure it is. Let's keep in mind that most clubs in downtown with an open door system get overcrowded and they've all closed down.

I'd love to hear from folks about The Office. It might be a while before I make it there myself but it needed to be mentioned because on the whole people are loving what they get once they get inside.





Contact and/or Location Info:

421 Third St., Suite B
Baton Rouge, LA 70802
(225)448-3036
See Location On A Map


Website Available: The Office
Best of Baton Rouge Category: Dance Clubs


Originally posted 06/01/2010 by Wayne Odom





View Larger Map
See Detailed Google Map