A relaxed night spot with live music.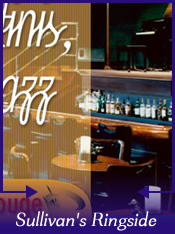 Ringside has become one of my favorite places to frequent. Situated right inside of Sullivan's steakhouse this popular night spot offers live music and drinks in a cozy atmosphere. I believe they call it ringside since they've got their stage setup in the corner of the room with a bar built below ground level around it. Looks like a boxing ring.

Perfect place to go with friends if you want to sit and relax. They have a great $5 martini night. The ladies love this place.







Contact and/or Location Info:

5252 Corporate Blvd
Baton Rouge, LA 70808
(225) 237-3055
See Location On A Map


Website Available: Sullivan's Ringside
Best of Baton Rouge Category: Live Music


Originally posted 10/19/2007 by Wayne Odom





View Larger Map
See Detailed Google Map