Country and dance music venue. Big live acts.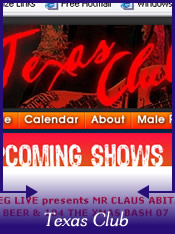 The biggest bar and music venue in Baton Rouge. Texas club caters to all your live music and late night party tastes.

Probably the best part about this venue is that they bring in big names in Country and rock music. From Garth Brooks to Flyleaf they've all played here. Take a look at all the posters hanging on their walls and you'll be amazed to see the variety of acts that've played the Texas Club. If you want information on what's coming up check out their website or search Ticketmaster.

When they're not hosting big acts the Texas Club has big late night dance party nights. Come here to dance on their huge dance floor. The Texas Club easily holds over 1000 people regularly.





Contact and/or Location Info:

456 N Donmoor Ave
Baton Rouge, LA 70806
(225) 928-4655
See Location On A Map


Website Available: The Texas Club
Best of Baton Rouge Category: Live Music


Originally posted 11/24/2007 by Wayne Odom





View Larger Map
See Detailed Google Map