Live music, dance club and night spot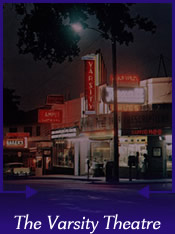 A very popular night spot right near the North Gates of LSU. The Varsity has been a great place for as long as I can remember.

Dancing - Retroactive

The Varsity has great retro nights and dance nights that are always a good time. Their big stage and dance floor make it a great place for dancing. Music is a mixture of classic favorites and new tunes.

Live Music and Concerts

I love the Varsity as a concert venue. Often they'll have big names and great new talent come in and put on an event. The buildings nature as an old theatre make it a great venue for watching live performances.

LSU Sports

For football games and other big games they'll put up a big screen and let everyone come in to watch. Pretty cool.

Who goes here? - The people who go here are usually 20-30 years of age. However I see people of all ages enjoying this long time Baton Rouge favorite.





Contact and/or Location Info:

3353 Highland Road
Baton Rouge, LA 70802
(225)383-7018
See Location On A Map


Website Available: The Varsity Theatre
Best of Baton Rouge Category: Baton Rouge NightLife


Originally posted 02/24/2007 by Wayne Odom





View Larger Map
See Detailed Google Map