Nature, The Swamp, Learning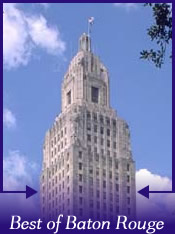 Bluebonnet Swamp Nature Center is a 103-acre facility dedicated to conservation, education, recreation and tourism. It houses an award-winning, 9500-square-foot building filled with live animal exhibits; photographic presentations of the site's flora and fauna; natural artifact and mineral displays; and a sizable, vintage waterfowl decoy carving collection. Ecology and art exhibits are featured periodically.

The above is from their website. The location is very easy to get to in Baton Rouge and worth checking out especially if you're form out of town.

August 17, 2013 from 9 am to 5 pm. "Duck, Duck, Goose Day" celebrates Louisiana's waterfowl hunting heritage with extensive displays of vintage duck & goose decoys and antique boats - some over 100 years old! For families with young ones, there's all sorts of children activities including crafts, kiddie booths with toy give-aways, a jump house, face-painting, door prizes, and even a live duck pen! Admission is $5 per adult, $4 per child (ages 3 - 17), and free for children under 3. Event location is at Bluebonnet Swamp Nature Center, 10503 N. Oak Hills Pkwy, Baton Rouge, LA 70810. For more information, call 225-757-8905 or email bbswamp@brec.org.





Contact and/or Location Info:

10503 N Oak Hills Pkwy
Baton Rouge, LA 70810
(225) 757-8905
See Location On A Map


Website Available: Bluebonnet Swamp Nature Center
Best of Baton Rouge Category: Organizations


Originally posted 07/31/2013 by Wayne Odom





View Larger Map
See Detailed Google Map