Halloween Parade in Baton Rouge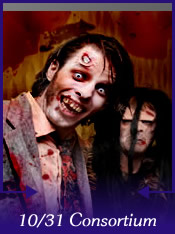 I was really excited when I saw that this organization was forming up. They're a non-profit who's jump out purpose is to put on an annual Halloween parade in Baton Rouge. They also state that they're dedicated to putting on events to preserve the mystery and magic of Halloween to nurture creativity and freedom of self expression. I think this is great. To me the Fall season and Halloween is a great change of year around Baton Rouge to be thoroughly enjoyed.

The first parade will be October 29, 2011 at 2pm in downtown Baton Rouge. The link to their website is below and full of great information about them. It's going to be a great annual event.

All proceeds to go to Our Lady of The Lake Children's hospital.





Contact and/or Location Info:

Baton Rouge, LA 70801

Website Available: 10/31 Consortium
Best of Baton Rouge Category: Organizations


Originally posted 09/29/2010 by Wayne Odom