Run... drink... and be HAPPY!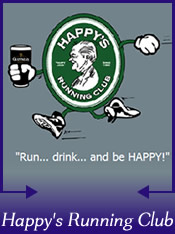 I almost couldn't believe that someone had founded a running club around my philosophy of working out. Do your running, sweat it all out and then drink a beer.

Apparently folks in Baton Rouge feel the same way since a couple of people with the support of Happy's Irish pub have created a running club. Their focus simply to get more people to enjoy the downtown area.

Membership is open to anyone who wants to come. There is a $30 fee and you sign a waiver that you can download from their website. Happy's Irish Pub has drink & food specials for all the members. The club meets every Tuesday's 6:00pm at Happy's before running at 6:15.

Their contact information is on their website. The address I list shows the location of Happy's Irish pub.





Contact and/or Location Info:

136 Third St
Baton Rouge, LA 70802
See Location On A Map


Website Available: Happy's Running Club
Best of Baton Rouge Category: Organizations


Originally posted 08/03/2008 by Wayne Odom





View Larger Map
See Detailed Google Map