Creators of River Road Recipes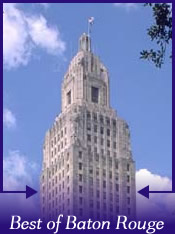 The Junior League must be considered one of the best organizations of Baton Rouge. It's a womens group whose focus is developing their potential through voluntary community service & interaction. Membership conditions include being a resident of Baton Rouge.

They are probably most well known for their creation of "River Road Recipes" which has to be considered "the" cookbook for Louisiana style recipes.





Contact and/or Location Info:

9523 Fenway Ave
Baton Rouge, LA 70809
(225) 924-0298
See Location On A Map


Website Available: Junior League of Baton Rouge
Best of Baton Rouge Category: Organizations


Originally posted 12/19/2007 by Wayne Odom





View Larger Map
See Detailed Google Map