South Baton Rouge High School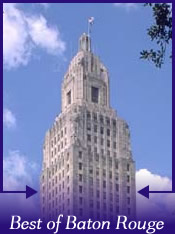 Woodlawn is a South Baton Rouge public school. They frequently have a number of events to promote the activities within their school.

Tailgate ThrowDown

Woodlawn highschool is starting an annual tailgating competition to be held for the first time ever Saturday August 22, 2009 10AM-7pm.Entry Form Here and contest rules here

Bring your best tailgate and throw-down against your neighbor for the Best Tailgate in the Bayou State.Display your creativity, fun, spirit and expertise. Cook your favorite and best recipe for all to enjoy while you show off your creative tailgate. Celebrity Judges will select the Best Tailgate from two categories: High School entrants and Open entrants. You have been talking the talk, it is time to walk the walk.

Prizes awarded to 1st Place and 2nd place team for each division Ė 1st place $250.00 and trophy. 2nd Place trophy. A minimum of 10 teams in each division required for separate divisions.

In addition to the tailgate competition there will be activities, food, games and entertainment for all ages, so donít miss out!







Contact and/or Location Info:

15755 Jefferson Hwy
Baton Rouge, LA 70817
(225) 753-1200
See Location On A Map


Website Available: Woodlawn Tailgate Throwdown Competition
Best of Baton Rouge Category: Other Stuff


Originally posted 08/08/2009 by Wayne Odom





View Larger Map
See Detailed Google Map