Truly unique fine dining experience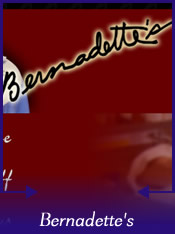 From personal experience I must say this is an addition far and beyond anything I've been privilege to anywhere in Baton Rouge. As a person who's been to Paris this very much reminded me of the finest dining I had while I was there. The Robert's who own Bernadette's as well as the well known Cabin restaurant have really done something special in assembling this establishment within their storied 18th century complex.

Bernadette's is open Thursday, Friday and Saturday evenings from 5 p.m. - 9 p.m.; by reservation only. The menus feature a fine dining Cajun/French fusion cuisine. Menus for the restaurant's signature five-course and seven-course meals are featured weekly, along with wine pairings. A seasonal menu of distinctive a la carte selections is also available, along with an extensive wine list for even the finest palette that offers a wide range of selection from Cristal to 1976 Warres Port. Sunday Brunch is also offered.

The previous paragraph was from their website. It's a very modest description of a delicious menu beyond my abilities to describe. But for perspective let me say that my wife glowed at how much she enjoyed their approach to her filet dish. More so than any other time at the best of steakhouses. My duck was excellent and unlike anything else I've ever had.

The service was second to none. I've never had so many people work so diligently to take care of me. From the host to the chef who came out and talked with us a while it was perfect. You must try.

Remember reservation only!!!

Update 2010

My wife and I went to Bernadette's again here in April for our Anniversary. The service, food and experience was as wonderful as we remembered from our first visit. Chef Gerard came out and made us a special dessert while we watched which was fantastic. We will definitely be going back!





Contact and/or Location Info:

5405 Highway 44
Baton Rouge, LA 70737
(225) 473-9000
See Location On A Map

Best of Baton Rouge Category: Baton Rouge Restaurants


Originally posted 12/01/2008 by Wayne Odom





View Larger Map
See Detailed Google Map