As Serious as Hot Dogs Get!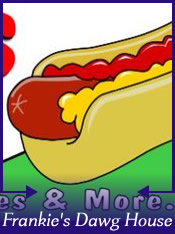 As serious as a hot dog can get! Frankie's serves up dozens(maybe hundreds counting their specials) of different takes on the hot dog. Chicago, chili cheese, Duck, Alligator, Kobe Steak Sausage, Deer, Rabbit, Buffalo and much more. I've got to say I was in love with this place from the first time I saw what the menu and looked back behind the counter to see all the ingredients. It's amazing just what these guys will put on a hot dog and friends have told me that they haven't had one yet that wasn't just excellent. Just go took a look at their Facebook Updates where they list their specials and you'll think "what in the world I have to try that.".

My wife and I each tried a different dog. I had the Fatty which is the "Dawg of the Month" and I was in love. The Fatty~Black Angus dawg topped with Cajun fries, homemade chili, queso and jalapenos. It was so good, so fresh and so tasty. My wife didn't even breath while she inhaled a dog called "The Situation" which is homemade signature mac-n-cheez and bacon. She was so impressed and that's saying something for a far more picky eater than myself. I really can't wait to drag friends back next week to try it out.

Frankie's is situated right between Zippy's and Parrains off of Perkin's near the overpass in mid-city. It's on a small street called Cedardale that I didn't even know existed. It's a small little house that's very inviting. You walk in and there's rows of bar seating and an ordering window and not much more. They've done a nice job of making the place look really good and branding themselves very well. You can go check out the pictures online at their website. Outdoors they've got one hell of a nice deck for seating with lights, heating posts an nice wooden benches. It looks like a great place to hang out and enjoy some warmer Louisiana weather.

Talking with one of the owners in the business he was a great guy and very hospitable. He's a local guy and a veteran in the Baton Rouge restaurant scene. I have no doubt that if things continue as they're going we'll be enjoying a plethora of gourmet hot dogs in the Baton Rouge area for years to come.

Check out their website link below for more info.





Contact and/or Location Info:

2318 Cedardale ave
Baton Rouge, LA 70808
(225)389-6255
See Location On A Map


Website Available: Frankie's Dawg House
Best of Baton Rouge Category: Baton Rouge Restaurants


Originally posted 02/11/2011 by Wayne Odom





View Larger Map
See Detailed Google Map