Greek & Lebanese Restaurant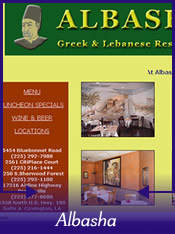 Beautiful establishments serving up absolutely wonderful food. For my money you can't do any better than the creations they serve up for lunch specials. I love the Mousaka plate and the Lebanese Iced Tea is a great drink.

They have beautiful paintings on the wall at the Bluebonnet location. Sherwood is very convenient at the corner of Coursey. Citiplace location is great if you're going to the movies or walking next door to The Cove.





Contact and/or Location Info:

5454 Bluebonnet Blvd.
Baton Rouge, LA 70809
See Location On A Map


Website Available: Albasha Greek and Lebanese
Best of Baton Rouge Category: Baton Rouge Restaurants


Originally posted 04/19/2007 by Wayne Odom





View Larger Map
See Detailed Google Map