The best deli sandwiches and poboys in a convenient disguise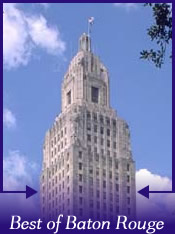 American Mart appears to be a little convenience store at the corner of Lee and Nicholson out in Tigerland. However what's really up is the absolute best deal and best taste on a poboy sandwich you'll find any place in Baton Rouge. $6 gets you the best sandwich you'll find any place in town and a bag of Zaps. For 49 cents more you can get a 32 oz cold drink.(with or without buying the sandwich).

Ask any person living around LSU and they'll tell you. A&M Mart is the place to buy a great deli poboy. I suggest spicy turkey with pepper jack cheese.







Contact and/or Location Info:

5251 Nicholson Drive, Suite Q
Baton Rouge, LA 70820
(225)767-7531
See Location On A Map

Best of Baton Rouge Category: Baton Rouge Restaurants


Originally posted 03/07/2007 by Wayne Odom





View Larger Map
See Detailed Google Map