Good Value Chinese Take Out Baton Rouge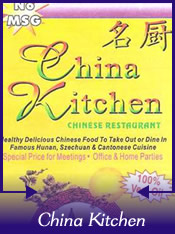 I was picking up take out from China Kitchen this week and asked the lady how long they'd been there. It dawned on me that these guys have been around for a while, we eat there often and it's always a decent meal at a bargain price. For over 8 years now they've been quietly serving the Chinese fix for the residents of the Shenandoah area.

My family and I can eat and be very full for less than $15. You can easily feed 3-4 people for this at China Kitchen and it's always hot and tasty. Like most other Chinese take out places they've got a wide array of beef and broccoli, General Tso's Chicken, Sweet and Sour pork, etc. You name it. They've got a great list of combination plates that come with rice, egg roll and a drink for only $7-$8. We love them and we eat there all the time. If you don't know where to find them they're in the same parking lot as Albertson's over by Portobello's.





Contact and/or Location Info:

15450 George Oneal Road
Baton Rouge, LA 70817
(225) 752-1218
See Location On A Map

Best of Baton Rouge Category: Asian Restaurants


Originally posted 08/08/2010 by Wayne Odom





View Larger Map
See Detailed Google Map