Best Chinese in Baton Rouge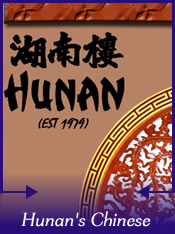 In my opinion this is one of the better places to grab a bite in Baton Rouge. The food is always great, the service is always friendly and the atmosphere is comfortable. Their walls are decorated with dozens of awards from city papers and magazines saluting their excellent food. Like sushi? Kamado's is upstairs.

All of this is not to mention the hundreds of pictures where Hunan's owner can be seen posing with various celebrities, politicians and foreign dignitaries. They've also been listed in many publications as one of the top Chinese restaurants in the United States.

Drink suggestion: The saketini is to die for.

The Bobo platter is great for two and is a tasty assortment of meats on sticks.





Contact and/or Location Info:

4215 S Sherwood Forest Blvd
Baton Rouge, LA 70816
(225) 292-4462
See Location On A Map


Website Available: Hunan Chinese Restaurant
Best of Baton Rouge Category: Asian Restaurants


Originally posted 12/17/2007 by Wayne Odom





View Larger Map
See Detailed Google Map