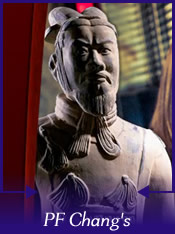 If you're one of the few people who hasn't heard of PF Chang's it's a nationwide Chinese restaurant that looks like a cross between a Chinese Disneyworld ride and a night club. Located over off Corporate Blvd this place has been such a big hit with locals that it just has to have a place on Best of Baton Rouge.

Foodwise they label themselves as a Chinese Bistro. They offer their own versions of every typical Chinese food you'd find in most places. They're also really proud of their line of sauces they mix on the table.

The atmosphere is very impressive. Don't go here for a quiet and cozy evening because it's a wide open huge room with some really crazy looking decorations. The bar is really cool and a great place to start an evening.

While I'm not the biggest fan of PF Chang's they certainly have the pulse of the public. However it should be known that on a primetime night like Thursday/Friday/Saturday you're going to wait for a table at night for around an hour.





Contact and/or Location Info:

7341 Corporate Boulevard
Baton Rouge, LA 70809
(225) 216-9044
See Location On A Map


Website Available: PF Chang's China Bistro
Best of Baton Rouge Category: Asian Restaurants


Originally posted 04/19/2010 by Wayne Odom





View Larger Map
See Detailed Google Map