Old style hamburgers for Baton Rouge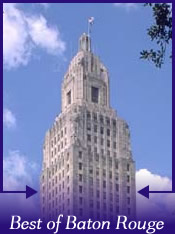 The first time I stopped in at Billy B's was completely by accident. I pulled into the parking lot and it just popped out at me. I walked in and it was like going back in time. An old school hamburger joint with all the flair and the taste of the 50's.

The burger and fries I had were excellent. Billy B's sports a full range of your old time favorites. Burgers, Fries, shakes, malts, etc.





Contact and/or Location Info:

7633 Jefferson Hwy
Baton Rouge, LA 70809
(225)924-1391
See Location On A Map

Best of Baton Rouge Category: Baton Rouge Restaurants


Originally posted 02/25/2007 by Wayne Odom





View Larger Map
See Detailed Google Map