Great Restaurant, Great Beers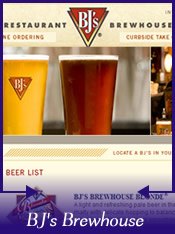 As a person who's not usually too fond of chains it's big of me to say that this is a truly terrific restaurant. It's very aesthetically beautiful with high ceilings, a long dark wood bar, huge projector TV. Very high energy as they describe on their website.

The food is really excellent. It's a huge American menu that anyone could find an appealing dish on. Pizzas, pasta, sandwiches, dessert, stuffed potatoes and great appetizers.

Beer though. Beer is what it's all about for me. They have a large line of their own craft beers on tap as well as a selection of your import & microbrew favorites. I must say as a beer drinker their line of brews are excellent.(especially the Tatonka stout) What's better is during the daytime they offer their great beers at a low $3 happy hour price that goes up as the day goes on. Excellent stop for my half day Fridays though.

Go to BJ's. Right between the Mall of Louisiana and the newest Rave theatre in town. Can't beat it for entertainment.





Contact and/or Location Info:

6401 Bluebonnet Blvd
Baton Rouge, LA 70836
(225) 766-4300
See Location On A Map


Website Available: BJ's Brewhouse
Best of Baton Rouge Category: Baton Rouge Restaurants


Originally posted 05/15/2009 by Wayne Odom

Weekly Food & Drink Specials


Monday
»» 3-7pm $2 off Appetizers 1/2 off mini pizzas
»» 3-7pm $1 off all draft & cocktails
»» 12-3pm $3 BJ's Brand Pints
Tuesday
»» 3-7pm $2 off Appetizers 1/2 off mini pizzas
»» 3-7pm $1 off all draft & cocktails
»» 12-3pm $3 BJ's Brand Pints
Wednesday
»» 3-7pm $2 off Appetizers 1/2 off mini pizzas
»» 3-7pm $1 off all draft & cocktails
»» 12-3pm $3 BJ's Brand Pints
Thursday
»» 3-7pm $2 off Appetizers 1/2 off mini pizzas
»» 3-7pm $1 off all draft & cocktails
»» 12-3pm $3 BJ's Brand Pints
Friday
»» 12-3pm $3 BJ's Brand Pints
»» 3-7pm $1 off all draft & cocktails
Sunday
»» 3-7pm $2 off Appetizers 1/2 off mini pizzas



View Larger Map
See Detailed Google Map