Firewood Grilled Seafood Restaurant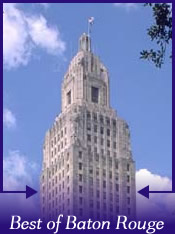 I've got to give a lot of credit to Bonefish Grill they've got definite confidence in their product. Anyone willing to send a compare our flavor challenge (with gift certificates) to a blogger who's obviously biased to their locality believes in what they've got. So my first visit to the Bonefish Grill location on Corporate was particularly interesting with the addition of the purpose.

First impression was that the restaurant is very beautiful in the most contemporary upscale new shopping center in town over at Towne Center. Walking up we were fairly surprised to find a 15 minute wait on a Wednesday. That doesn't happen in many places around Baton Rouge so it's clear locals love what they're selling. We got a couple of very good martinis and waited until seated.

Our server was very good. She knew the menu like the back of her hand and we didn't want for anything. The thing that stuck out about their menu to me was that it's international as opposed to the Louisiana Gulf specific approach of every other fish/seafood restaurant in town. Things like Chilean Sea Bass, Norwegian Salmon, Snake River(Idaho) trout and a distinct presence of Asian twists in everything. I had the chowder, Snake River trout and the Cajun chicken egg rolls. It was all very good. The fish actually reminded me of what you'd get at a high end fish house down on the Florida coast and I really enjoyed it. Everything was fresh and hot. The flavor was distinctly not Cajun/Creole and I was surprised at how my mouth's come to expect such from fish when I'm eating it. It was a refreshing change from the typical for me. I can definitely understand why so many people love this place.

For the challenge portion of the Bonefish Challenge I haven't decided yet where I can compare them to. Their style of fish house is unlike anything else around here if I'm being asked. Talking with other locals about what compares we've thrown around names like Parrains, Chimes, Mike Andersons and none really offer the same sort of product. I'll give it to this chain they're unique and offer something special. Based on my experiences locally their flavor is great but don't expect a Cajun feel to your food. Their service is fast, friendly and knowledgeable. Atmosphere is upbeat and fun. I can see they're working hard to earn a place amongst the best restaurants in Baton Rouge.







Contact and/or Location Info:

7415 Corporate Boulevard
Baton Rouge, LA 70809
(225) 216-1191
See Location On A Map


Website Available: Bonefish Grill
Best of Baton Rouge Category: Baton Rouge Restaurants


Originally posted 06/11/2010 by Wayne Odom





View Larger Map
See Detailed Google Map