Great place to watch the game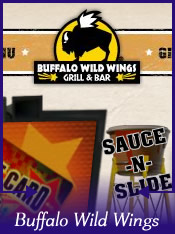 For a national chain restaurant Buffalo Wild Wings does a great job of hitting the local pulse. We all know they have a great menu of dazzling wing selections, great beers on tap, good specials and a festive atmosphere. However in Baton Rouge this restaurant is a great option to go watch LSU Sports, UFC fights and whatever other sports may be on. Huge projector televisions, lots of tables, pool tables, arcade games and more. And they're smart enough to have Cox Cable so they're catching Cox Sports Net which carries most of the SEC games.

My friends and I often check out Buffalo Wild Wings for the big games. They earn your business.





Contact and/or Location Info:

7524 Bluebonnet Blvd
Baton Rouge, LA 70810
(225) 819-8438
See Location On A Map


Website Available: Buffalo Wild Wings
Best of Baton Rouge Category: Baton Rouge Restaurants


Originally posted 06/07/2009 by Wayne Odom





View Larger Map
See Detailed Google Map