The Name Says it All Really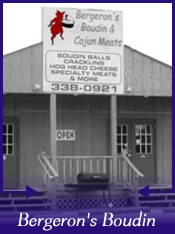 This week we took a short drive from Essen to Lobdell Highway in Port Allen to see what Bergeron's Cajun Meats is all about for lunch. I'd read great reviews about them online and heard good things about their foods to go such as boudin, crackling and specialty meat products such as tasso, hog head cheese, fresh sausage and more.(They have a long list of products offered on their website link which is below) But what I'd also learned is that they offer daily plate lunch specials and an offering of grilled items for the hungry lunch crowd in Port Allen. Like other places right off Interstate in Port Allen you can get there in less than 10 minutes coming from Essen lane so this past Thursday it was time to go see what Bergeron's had .

You always know a place is good when it's 11:05am and the place is half full with a line. There's seating for 70 or so people and it's a very large place with lots of space. You walk over to a counter and place an order. We ordered plate lunches that were handed to us in less than a minute. They go by letters and you tell them which you want, they scream it to the back area and it's put together right there. For less than $10 I got a hefty plate lunch and a big piece of Boudin. They also post the specials online so you can go look to see what's on the menu before heading over.

Lunch for me was a boneless stuffed chicken breast served with black eyed peas, salad and dirty rice. It was very flavorful and just like home cooking. Everything about it was delicious and I was very satisfied. The boudin was a very tasty side to my meal and makes this place a great stop for some boudin. It was more fine than the boudin I'm partial to but the skin was just right and I liked it very much. We'll definitely be back for more. Driving there and back from Essen plus sitting down to eat only took about 40 minutes so yes you can drive to Port Allen on your lunch hour.

I'm really looking forward to going back and buying some of their specialty meat products from their deli to try in my next jambalaya. I've heard it'll take your food to the next level. The deli is a separate area from the dining area by the way and that place was packed too. They're definitely selling some serious Cajun foods there.





Contact and/or Location Info:

760 Highway 415
Baton Rouge, LA 70710
(225) 338-0921
See Location On A Map


Website Available: Bergeron's Boudin and Cajun Meats
Best of Baton Rouge Category: Louisiana Style, Creole and Cajun Restaurants


Originally posted 03/12/2011 by Wayne Odom





View Larger Map
See Detailed Google Map