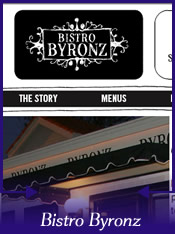 I tried out Bistro Byronz today and must say I wish I'd gone years ago when they first re-opened on Government Street. I say re-opened because apparently they left Baton Rouge for 20 years only to return in 2006. I'd meant to give them a try but they're a little out of my usual way and well...things happen. So today I resolved to get over there and check them out for the first time. My first thoughts on pulling up and walking in was that it was very inviting. It appears to be an old Southern home converted to a restaurant. Lots of open and inviting windows with an orang clay tile roof that must be a beast to maintain. Walking in I noticed the wood floors, the decorative metal tile on the roof, the bar and the use of wrought iron tables with old wooden tops. It's nice and certainly reminds you of New Orleans. The large windows and use of mirrors really opens the place up well. It's comfortable.

Foodwise their lunch menu had an impressive array of sandwiches, salads and plate items. Everything from smothered chicken, crawfish etouffee, to pork chops and seared tuna. It's a really diverse menu that can be appreciated on their website.(link below) I went for the pork chops and wasn't disappointed. Very tasty and juicy lunch portion chops that bursted with flavor. The rice was seasoned well with a cajun gravy that made your nose sniffle a litte. Their carrot souffle was a fantasic individually browned portion that came in a cup. It had the consistency of marshmellow and really should've been on the dessert menu it was so good.

My experience was great. The staff was on top of things and I didn't want for anything. I watched other sandwiches and dishes being brought out that looked fantastic. Apparently they have their own rolls for sandwiches. I will definitely be going back to try the rest of the menu.





Contact and/or Location Info:

5412 Government Street
Baton Rouge, LA 70806
(225) 218-1433
See Location On A Map


Website Available: Bistro Byronz
Best of Baton Rouge Category: Louisiana Style, Creole and Cajun Restaurants


Originally posted 05/24/2010 by Wayne Odom





View Larger Map
See Detailed Google Map