An Innovative and Exciting Dining Concept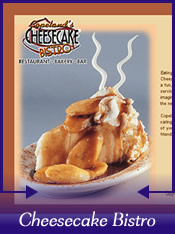 Cheesecake Bistro By Copeland's has spent over a million dollars to continue to bring the people of Baton Rouge the biggest and best we've all become accustomed to seeing from the Copeland's. Having their grand re-opening January 25-27, 2010 they've added on to their already spectacular food and drink menu introducing a number of new creations from cheddar jalapeno biscuits, to desert waffles to Sashimi tuna salad. They've also made a big push in their wine offerings now setting all tables with wine glasses and having their distributors send Baton Rouge's favorite wines to their cellars.

I know this because I recently had the pleasure of attending their media event for their re-opening hosted by Al Copeland Jr himself. He's a very entertaining personality with in depth and easy knowledge concerning every aspect of his Cheesecake Bistro. I find this highly valuable in a restraint owner because some of the best local restaurants are those whose owners are there daily and know the place inside out. Al really knew his place and it's reflected in the quality of the food and service we all know at Cheesecake Bistro.

Cheesecake Bistro is still outstanding and exactly what you expect from Copeland's. A huge menu, big New Orleans flavors, the best ingredients and top service. We were invited to see the new features they've added to their restaurant. First off they've done a lot of remodeling to the bar area making it more beautiful and more appealing. They've also added a side wine tasting room that also serves as a private party dining area. All the tables are now set with wine glasses because they've greatly enhanced their wine list. Also every meal is started with what was described as a small "muse" in their cheddar jalapeno biscuits which all guests are served to start off the evening. Al described them as warm pieces of art meant to set the mood and relax you. They definitely did that and were a perfect pairing for the Cabernet I was drinking.

The bar experience has also been the spotlight of many improvements. They've mad the addition of a number of trendy new alcohols like the flavored vodkas that people love so much these days. Additionally the whiskey selection is much higher than it used to be. In fact I also found out they recently hosted a special Crown Royal event I really wish I could've known about. We had the pleasure of being demonstrated to how their new drinks are made by their professional mixologist Star. The Crown Jewel was by far my favorite; it's a mix of grape juice, Crown Black and a squeeze of lemon. It was an excellent drink. We also tasted the Hennessy Sidecar, the Category 5 Blue Margarita and Big Al's Cosmo which were very memorable drinks. A big focus on the drink experience is now the effervescence and how it brings you in. They're looking to set the ideal mood for you before you ever even taste the drink. I was impressed.

Next they brought out a dozen or so of their new dishes they're offering and their head chef gave us a very detailed introduction to all of them. I'm amazed so much could be said about one dish but there was plenty to say about all of them. For me the things that really stood out where the Sashimi tuna salad and the savory braised pork waffles. The waffle idea is just wild to me and they've got a whole section of waffles to choose from including a dessert waffle made with a cake batter that was just awesome. There're also some tasty flatbread pizzas (or just flatbreads) such as the Mexican and Black and Bleu Chicken we were served that were very tasty; Ideal fun food for having a drink and sharing with friends. Their new menu additions are bigger than most restaurants entire menu so there's far too much to say. You just need to get in there and check out Cheesecake Bistro since the re-opening or if you're a visitor in town it's definitely on the must try list. It was already an outstanding experience and it's only gotten better.





Contact and/or Location Info:

6171 Bluebonnet Boulevard
Baton Rouge, LA 70836
(225)761-1110
See Location On A Map


Website Available: Cheesecake Bistro by Copelands
Best of Baton Rouge Category: Louisiana Style, Creole and Cajun Restaurants


Originally posted 01/27/2011 by Wayne Odom





View Larger Map
See Detailed Google Map