Great corner restaurant & bar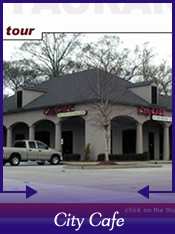 Hidden away at the corner of O'Neal and George O'Neal in Baton Rouge is this great locally owned and operated restaurant. They've got a really comfortable casual atmosphere great for the whole family. The shopping center their located in is very clean and makes for an all around great presentation. The staff is top notch and makes for a completely positive restaurant experience.

The food is really great. Louisiana style entrees and seafood. The Catfish Atchafalaya was the best version of this dish I've had in a really really long time.

They have a huge following of regular customers and are always busy. Solid proof that this restaurants 90 years of existence is well deserved.





Contact and/or Location Info:

4710 Oneal Ln # 113
Baton Rouge, LA 70817
(225)753-4420
See Location On A Map


Website Available: City Cafe
Best of Baton Rouge Category: Louisiana Style, Creole and Cajun Restaurants


Originally posted 10/09/2008 by Wayne Odom





View Larger Map
See Detailed Google Map