Great Food Hidden on the Canal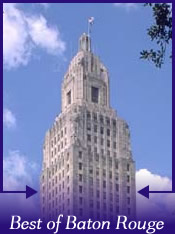 Many of my family and friends often get dressed up and drive over to Hill Top Inn. I love recommending Hill Top to folks in Baton Rouge because unless they're a boater that goes out on the Diversion Canal or someone who's from that area of Livingston they've never heard of it. However Hiill Top like so many restaurants out in this area is one of those authentic tasty little secrets you really should go try.

I've visited Hill Top on a couple of occasions. On those occasions I was out boating with friends and needed to grab something to eat. Once I had a fried seafood plate that was just great. On another occasion I had a burger that was really really good. My family goes there regularly because they enjoy the seafood. They have a decent size dining area and a bar that's great to stop by when out on the river.





Contact and/or Location Info:

13048 Hilltop Road
Baton Rouge, LA 70449
(225) 698-6713
See Location On A Map

Best of Baton Rouge Category: Louisiana Style, Creole and Cajun Restaurants


Originally posted 05/12/2010 by Wayne Odom





View Larger Map
See Detailed Google Map