An Excellent Creole Dining Experience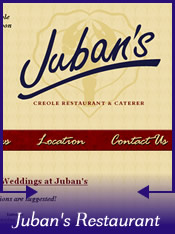 Without a doubt one of the finest wine and dine experiences in the state. The food is absolutely magnificent in both taste and presentation. I've never gone to Juban's and not been wowed by what I ordered. Their menu features a number of South Louisiana culinary creations that you'll find no place else. If you're in town on business or for an LSU game put this place on your list of places to try.

Huge Wine Selection

Juban has a wine room and keeps what has to be one of the largest collections of fine wines on hand for your dining experience. The staff is knowledgeable on the subject and suggested some great wines the last time my boss and I met there on business. A great place if you're interested in wine.

Juban's is hidden away in the strip mall at the corner of Perkin's and Acadian but you'll be amazed at how beautiful they've manicured the building. The inside of the restaurant is absolutely beautiful.

Juban's was awarded a "Best of the Award of Excellence" rating in The Wine Spectator magazine's "Best Restaurants for Wine" listing for 2007. It's also a very popular place with the biggest in Baton Rouge local businesses for throwing private parties.

A must visit.





Contact and/or Location Info:

3739 Perkins Rd
Baton Rouge, LA 70808
(225) 346-8422
See Location On A Map


Website Available: Juban's Creole Dining
Best of Baton Rouge Category: Louisiana Style, Creole and Cajun Restaurants


Originally posted 01/22/2007 by Wayne Odom





View Larger Map
See Detailed Google Map