Where to Gulf of Mexico Meets Old New Orleans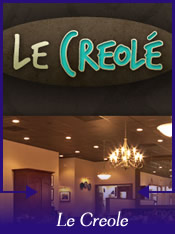 My first impression walking in to Le Creole was this is too nice a restaurant for what I typically do. The table settings, the staff, the decor were all saying this is a very fancy restaurant. I was there for lunch and it was early so I got seated very quickly and greeted by a very personable server. It was a little funny watching her pick up the other three place settings because there's so much hardware on the table.

The lunch menu is nice with a wide variety of nice sounding dishes like New Orleans BBQ shrimp, oysters, fish, chicken and waffles just to name a few. They have the entire menu online at the link below.($1 lunch martinis by the way which is awesome if you can have a drinking lunch) I ordered the $9.99 lunch special which was grilled fish served with a type of potatoes I can't recall the name of but loved. It was an excellent meal served with a small basket of these fantastic biscuits they feature. The sauce was fantastic and it was truly a meal worth more than the price tag.

It was a great lunch experience and I'll definitely be going back. Since they finished the construction on Highland it's just a beautiful area that's a pleasure to visit. Definitely go check them out.





Contact and/or Location Info:

18135 E. Petroleum Drive
Baton Rouge, LA 70809
(225) 752-7135
See Location On A Map


Website Available: Le Creole Baton Rouge
Best of Baton Rouge Category: Louisiana Style, Creole and Cajun Restaurants


Originally posted 08/14/2011 by Wayne Odom





View Larger Map
See Detailed Google Map