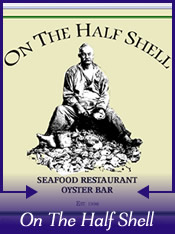 This is an absolutely excellent Louisiana style restaurant with roots right outside of Baton Rouge in Ascension parish. For 10 years now they've served up some of the best in grilled oysters and other Louisiana style seafood. With a great atmosphere, live entertainment and the best in cuisine this is a must try restaurant.

Their second location is the Baton Rouge location and is fairly new but is no less just as wonderful as the Prairieville location.

The editor recommends the Guidry's dozen which is an assortment of their fine grilled oysters.





Contact and/or Location Info:

39370 Old Perkins Rd. - Suite A
Baton Rouge, LA 70769
(225)673-1951
See Location On A Map


Website Available: On The Half Shell
Best of Baton Rouge Category: Louisiana Style, Creole and Cajun Restaurants


Originally posted 01/29/2008 by Wayne Odom





View Larger Map
See Detailed Google Map