Fresh High Quality Louisiana Food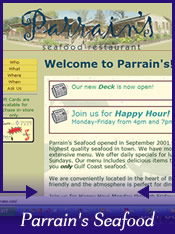 Parrain's has been a very popular seafood restaurant in the mid-city area. Since openeing in 2001 people come to them to enjoy Louisiana style seafood creations. My favorite is the Black & Bleu tuna which I think is outstanding.

Inside Parrain's is also The Hammerhead bar which is very nice. They also have great daily lunch specials.





Contact and/or Location Info:

3225 Perkins Road
Baton Rouge, LA 70808
(225)381-9922
See Location On A Map


Website Available: Parrain's Seafood Restaurant
Best of Baton Rouge Category: Louisiana Style, Creole and Cajun Restaurants


Originally posted 05/04/2008 by Wayne Odom





View Larger Map
See Detailed Google Map