Great seafood and popular with locals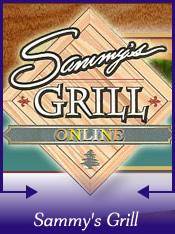 Situated on beautiful Highland Road area this restaurant is a big favorite with many locals. It's a popular spot to stop after work or a starting point before a night out. Very well known for their boiled crawfish, crabs and shrimp. Great Louisiana style dishes like etouffee and a shrimp & corn soup that I personally love. Friendly staff and atmosphere.

I last visited Sammy's for lunch one Friday and had an excellent bowl of shrimp and corn soup and a really nice poboy. Service was very friendly and the crowd was very local. It's definitely the kind of place that built on building a big regulars crowd.

There is also a second location of Sammy's located in Zachary, Louisiana which is basically North of Baton Rouge.





Contact and/or Location Info:

8635 Highland Rd
Baton Rouge, LA 70808
(225)766-9600
See Location On A Map


Website Available: Sammy's Grill
Best of Baton Rouge Category: Louisiana Style, Creole and Cajun Restaurants


Originally posted 11/02/2008 by Wayne Odom





View Larger Map
See Detailed Google Map