Mexican and Louisiana Fusion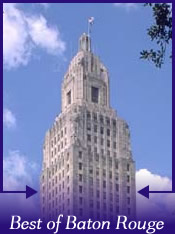 It took me a while to go check out this place. It definitely looks interesting from the road with a sort of wild paint and decoration scheme. There's an old classic Chevy on the front lawn just for show. You have to admit it looks like some place you need to go in to see for yourself.

My wife loves this place and eats there often....so....lets go see.

One of the reasons I have avoided it is terrible Urbanspoon ratings on top of it not being my type of food. However I think people on Urbanspoon are being a bit critical of what's obviously a locally owned and operated place. After visiting I'll say they're judging it like it was a big chain and picking apart small things.

Yeah the servers weren't Sullivan's quality but they were nice. They weren't the fastest but they were obviously trying and not screwing around. The manager(owner possibly) came by to thank us for coming in which I love. Yeah the decor was wild and crazy but it's a South Louisiana/Cajun spoof. All in all it's a nice environment just don't go for prom or a business meeting.

But how was the food?

My wife is insanely in love with the rice and the tacos. The rice is very unique. It's big grain rice cooked sort of Mexican and sort of Louisiana. For me it's good but for her it's great. The queso was very good for me and I really liked their salsa. I had seafood enchiladas which I really enjoyed. Thick but soft tortillas, good seafood, a really rich creme sauce and cheese. I finished it and would order it again. As I've said my wife orders their tacos often and loves it.





Contact and/or Location Info:

2628 SOUTH SHERWOOD FOREST
Baton Rouge, LA 70816
(225) 293-4735

Website Available: Taco Boudreaux
Best of Baton Rouge Category: Louisiana Style, Creole and Cajun Restaurants


Originally posted 07/06/2012 by Wayne Odom





See Detailed Google Map