Great Seafood, Raw Oysters, Beer on Tap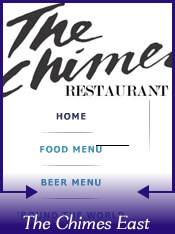 The Chimes is a Baton Rouge tradition. Almost anyone who knows anything about Baton Rouge and LSU knows about The Chimes over on Chimes street. Well they've franchised out to The Chimes East on Coursey which is a great echo of the original.

Beer on Tap

The Chimes takes great pride in it's diverse beer menu. They've got 20+ beers on taps and dozens more available in bottles. Many people go there just to enjoy the large variety on tap.

Popular Spot

The Chimes East has a large bar and a beautiful atmosphere. Lots of people love to go hang out in there wonderful bar and outdoor hangout area. It gets an A+ and my vote as a top spot for after work.

Don't forget the food.

The Chimes is of course a very popular spot for cajun and Louisiana style food in general. If you love good seafood, spicy dishes and all the tastes of Louisiana then give them a shot. I recommend the crawfish etouffee. It's great.





Contact and/or Location Info:

10870 Coursey Blvd W
Baton Rouge, LA 70816
(225)296-4981
See Location On A Map


Website Available: The Chimes East
Best of Baton Rouge Category: Louisiana Style, Creole and Cajun Restaurants


Originally posted 02/15/2007 by Wayne Odom





View Larger Map
See Detailed Google Map